go home?
jun 21, 2022
hi! you all probs know me as chippy. im a 12 yr old programmer, survivor, and a artist. ill use this for not just blogging, but art blogging!! isnt that cool? for now, happy arting!!!
jun 22, 2022
GRRRRRRR MY MIGRAINES ARE COMING BACK >:( im starting to get really worried if im gonna be okay for ice skating. i do iceskating btw. im also confused if im doing well on it too!!! i made some new friends tho. that makes me happy! im starting to get used to neocities and how it works. it helps a lot with creativty.
jun 23, 2022
my dads finally getting me good food! i got eggs and apples for breakfast. im so happy!!! ive also been drawing a lot. life is getting better!!! i got 1000 views too which makes me super duper happy!!!!!!!
jul 5, 2022
i drew a character who is cute! (atleast i tried) their name is knife, and it is a super war child!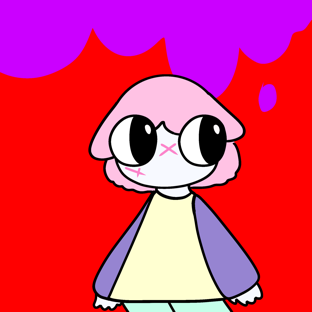 jul 7, 2022
so like i wanna make an object show arg about a human heart and their best friend, a console inspired by the wii, called kee. it would be about how they are trapped in a factory. its has a few hidden meanings that i wont spoil yet!!!
jul 9, 2022
whenever i try to open the profile thing on neocities, it doesnt work!!! why is this happening??????
jul 17, 2022
i like saying silly for some reason. its just... fun.
jul 23, 2022
I LOVE MAKING MEMES OH MY GOD ITS SO FUN LIKE HOW. HOW IS THIS SO FUN??? ALSO OBJECT SHOW TIME LOL (SHADOW (ON ON RIGHT) USES SHE/THEY PRONOUNS AND STORMCLOUD (THE ONE ON LEFT) USES SHE/HER)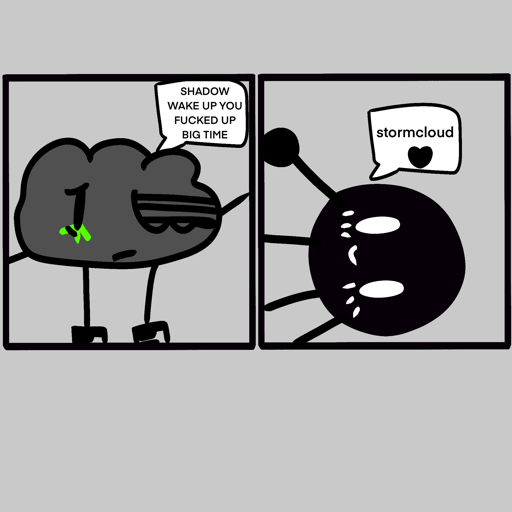 jul 28, 2022
i really want to become a anime person like a magical girl but im actually genderfluid and can changed my gender at any time because i feel like that alot. i also wanna do stuff like fight off despiar and darkness and bring peace to the world. that would make me the happiest chip i could be.
AUG 1ST 2022: DAY OF LAMP REVEAL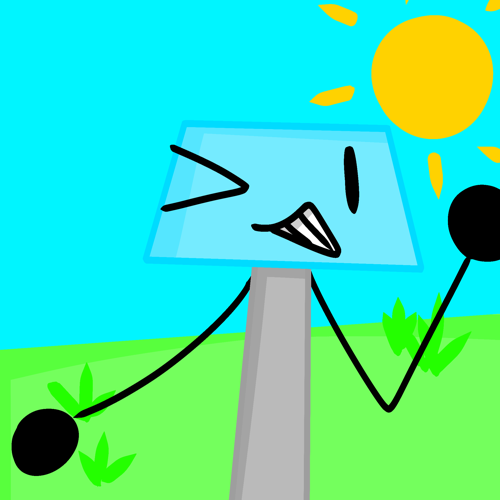 SEP 21 2022
OH MY GOSH I GOT 100 FOLLOWERS OH MY GOSH YAYAYAYAYAYAYAYAYYAYAAYYAYYAYAYAYAYAYAYAYAYAY WOWOWOWOWOOWOWOWOWOWOWOWOWOWOWOWOWOOWOWOWOWOWOWOWOWOWOWOW HUGS U ALL PLATONICALLY UR ALL MY FRIENDS 100 FRIENDS EGERYWHERE!!!!!!!!!!!!!!!!!!!!!! YAYYAYYAYAYAYAYAAYAYAYAYYAYAYAYAYAYYYAYAYAYAYAYAYAYAYYA :D
december 28, 2022: HELP
yall i think i have a ficitonal s/o is that okay im 12 hes an adult is this illegal is that bad??? i love him so much tho idk what to doooooooo and hes also a murderer???? WHAT DO I DO
janurary 12, 2023
I WENT TO THERAPY FOR THE FIRST TIME IN A WHILE! My new therapist is so so so nice. I can't wait to go again!!!!
EPIC ANNOUNCEMENT!!!!!! janurary 15, 2023
I REACHED MY WEIGHT GOAL!!!!! WOOOOOOOOOOO!!!!!!!!!!! :D I'M NOW 103!!!!! I WAS 99 BEFORE BUT NOW I'M IN THE HUNDREDS!!! LETS GOOOO!!!